Thursday 12 February 2009, 00.00 – 00.00
Around Wellington, beginning and ending at the car park next to enjoy public art gallery, Swan Lake, off Cuba St
Feeling that every one of the 24 hours should count, Williams attempted to complete 24 paintings in 24 hours travelling from location to location in a used station wagon.
Bringing together motor-sports and art, his work took the form of an art gumball rally around Wellington, a rally where he was the only contestant. The subjects of Williams' paintings varied – from people and landscapes, to pets and buildings. The number of paintings grew over the day and were stored in a rack on the roof of the car to speed up the drying process, with the project culminating in a grand unveiling of 24 paintings. Williams draws on the quirky banalities of his own autobiographic existence – an extraordinarily tall Welsh man and artist arriving in New Zealand for the first time. Employing both critical engagement and a sense of quick-witted surrealistic humour, Williams often explores contemporary issues of identity, location and culture.
Resources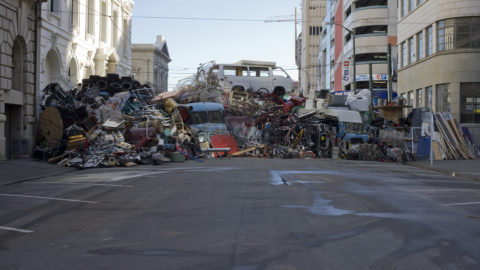 In ONE DAY SCULPTURE, prominent critics, curators and scholars explore…
View