One Day Sculpture was an award-winning cumulative series of 20 public artworks that took place between August 2008 to June 2009.  As New Zealand's first nationwide series of temporary, place-based public artworks, One Day Sculpture involved New Zealand-based and international artists — each of whom were invited to produce a new work that occurred during a discrete 24-hour period over the course of one year.
Taking duration and place as its starting point, One Day Sculpture stretched the format of the scattered-site exhibition over time and space. Instead of presenting a cluster of artworks within the framework of a single exhibition, One Day Sculpture offered the opportunity to engage with each newly commissioned work for one day only, one after the other, as a cumulative series across New Zealand over one year.
Led by the Litmus Research Initiative at Massey University Wellington and Claire Doherty, One Day Sculpture was produced in partnership with arts institutions and curators across New Zealand. Concerned with issues of installation and temporality, permanence, monumentality and the public realm, One Day Sculpture set out to examine how contemporary artists conceive of sculpture as a means to critically navigate and activate the public sphere. Presenting a range of national and international perspectives, the series was characterised by a diversity of artistic approaches from publicly-sited installations of 24-hour duration to nomadic interventions across the city at moments during one day. By June 2009, 20 very different artistic responses to the one-day sculpture parameter emerged, forming a unique picture of temporary place-based sculptural practice.
The commissioned series was accompanied by an international symposium in Wellington in March 2009 and a retrospective book publication co-edited by David Cross and Claire Doherty.
The One Day Sculpture Microsite gives full information on the series.
Resources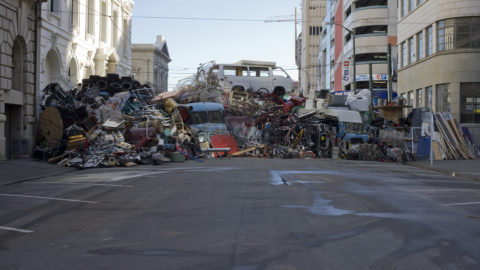 In ONE DAY SCULPTURE, prominent critics, curators and scholars explore…
View
Credits
One Day Sculpture was funded by Creative New Zealand; Massey University College of Creative Arts; The Chartwell Collection; University of the West of England, Bristol and Massey University Foundation.
---