Saturday 28 March 2009, 00.00 – 00.00
Salamanca Lawn, Botanic Gardens, Wellington
Playing with the conceptual and physical distance between modern outdoor art and contemporary site-based practice, Apple's One Day Structure comprised of a billboard placed next to Henry Moore's Organic Form No.1 in Wellington's Botanic Gardens.
The billboard text piece requested the removal of the layers of wax and lacquer that have been applied to protect the sculpture, noting Moore's wish that his work be allowed to weather naturally and to interact with its environment. Rather than just protest, Apple's work deals with unusual negotiations. Via seemingly slight actions, Apple manages to summon an evocative array of cultural and historical questions. By pointing his sign towards another Apple also brought into play the trajectory that artists everywhere are still negotiating; the idea that art is always at its best collaborative, and never completely finished.
Resources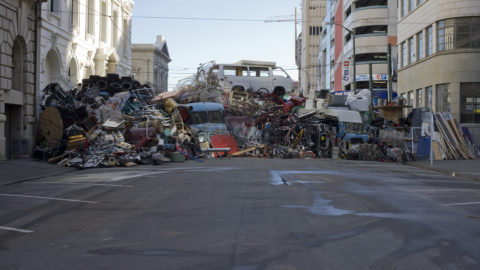 In ONE DAY SCULPTURE, prominent critics, curators and scholars explore…
View
---