Sunday 26 October 2008, commencing at 09.00
Hawera, South Taranaki
Interpreting the notion of 'one day' as a dreamy ideal for the social imagination rather than focussing on the 24-hour parameters of One Day Sculpture, in Came a Hot Sundae Liz Allan commemorated the life and literary works of one of South Taranaki's most colourful characters – Ronald Hugh Morrieson (1922-1972).
Morrieson was attributed with forging the genre of Taranaki Gothic, and his novels echo the people, livelihood and milieu of South Taranaki. Despite this, in 1992, the author's family home was demolished to make way for a Kentucky Fried Chicken franchise. For one day, Morrieson became the lens through which the stories and shifting identities of the South Taranaki region were celebrated. By drawing together a range of community groups, Allan provided a critical space for sharing the stories of the South Taranaki people, mingling the real with memories and the fictional.
From small town New Zealand to little city Wellington, Morrieson's reputation stretched across the lands, and the festival (featuring films, readings, music, entertainment and an award ceremony) celebrated his artistic legacy in all its myriad forms. Allan successfully wove the contradictory nature of Morrieson with the complex social relations of the community such that Came  a Hot Sundae has resonance beyond the commemorative day.
Resources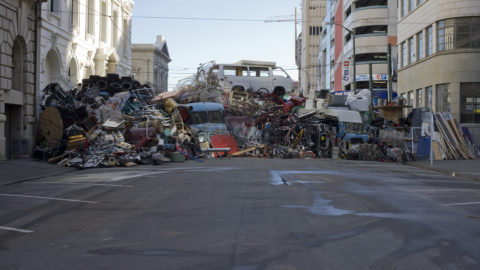 In ONE DAY SCULPTURE, prominent critics, curators and scholars explore…
View