Thursday 28 August 2008, 00.00 – 00.00
Boatshed 805, Opposite 171 Breaker Bay Road, Breaker Bay, Wellington
On 28th August 2008, a storm was predicted over the city of Wellington. Using a long-range weather forecasting system, Maddie Leach pinpointed a winter's day in which downpours, hail, wind and rain were expected to descend upon the North Island's most southerly city.
A 'perigee' is the moment at which the moon is closest to the earth each month, and it is around this time, according to the rules of lunar forecasting that significant changes in weather patterns can occur. Anticipation for the storm was built by the artist through a series of newspaper advertisements placed in the preceding days that identified the changing weather conditions. On the day itself, visitors were encouraged to seek out a boatshed at Breaker Bay, set at the mouth of the harbour, Te Whanganui-a-Tara, from which to watch in anticipation over the Cook Strait over a period of 24 hours. The boatshed itself had undergone extensive work by the artist – cleaned out and lined with cedar wood, the window replaced and door refurbished – acting as a viewing platform or shelter.
Leach's work is concerned with potentiality. It is in that gap between actuality and potentiality, in the waiting for something to happen, that Leach encouraged us to think back and forth between what we imagined was going to happen and what we were experiencing physically. Perigee #11 occurred as rumour, as text, as topic of conversation, as quest, and as a site of sociability in public space.
Resources
'Maddie Leach's deceptively simple Perigee #11 is a work that…
View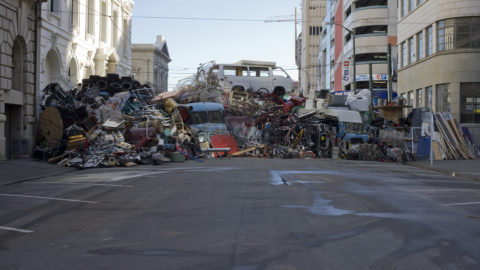 In ONE DAY SCULPTURE, prominent critics, curators and scholars explore…
View