Thursday 28 May 2009, 05.00 – 22.00
Multiple locations across Wellington
Conceived as an elusive finale for the One Day Sculpture series, Michael Parekowhai mounted a 4.6 metre-high neon sign on the back of a truck that spelled out the word 'OPEN' and toured it around the city. Displaying a unique blend of wit and seductive sculptural object making, Yes We Are played with the idea of contextual 'displacement', reflecting the nature of the One Day Sculpture series itself by embracing the guise of an unprescribed and unexpected intervention. Part-retro, part-Vegas, the sign accrued different meanings as it travelled from place to place across the day:
'From the dark, early morning light of a deserted ferry terminal seen from afar, to the frenzy of the commercial district in broad daylight.' Claire Doherty
By not allowing audiences to know a predetermined route for the work, but simply indicating where the work will start and finish, the artist coaxed us to think about the terms of which we encounter a work of art. Parekowhai was particularly interested in the potential of the term 'open' and what such a disembodied sign might indicate about the future of public art. The title of the artwork refers explicitly to the convention of signs on shop doors which substitute 'Yes We Are' for 'Open' – an assertive and optimistic response to a potential enquiry.
Resources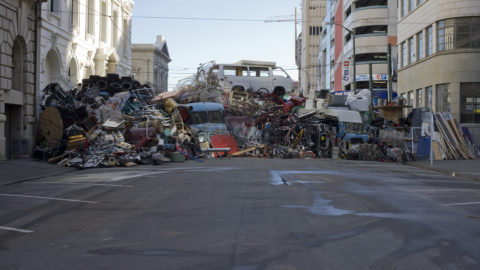 In ONE DAY SCULPTURE, prominent critics, curators and scholars explore…
View