Monday 25 May 2009
New Zealand, Nationwide
Tiravanija's project involved the mailing of an announcement card to Auckland commissioner ARTSPACE's mailing list. Using the postal system as a means to activate an action in public space, the postcard drew attention to the traffic beacons which stand either side of pedestrian crossings in New Zealand cities – invariably flat representations of the original spherical beacons.
The recipient's attention was drawn to something that pre-existed in the public space, something which in itself may have already been a form of public sculpture. Tiravanija used the readymade of the One Day Sculpture announcement card to insert this work into the system of announcements distributed for each project during the year-long series. The official date for Tiravanija's project was Monday 25th May 2009, but the date on the cards was replaced with 'TODAY' – indicating the fallacy of such directives, as the work in this case, operated when it was received.
Resources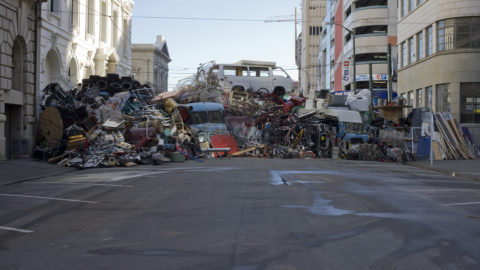 In ONE DAY SCULPTURE, prominent critics, curators and scholars explore…
View