Sunday 15 March 2009, 00.00 – 00.00
The Esplanade, Sumner, Christchurch
Appropriating the 'non-exclusive', 'universal' form of the car, Hirschhorn dramatically customised a standard sedan with a variety of cheap materials and placed it on The Esplanade that runs adjacent to the Christchurch beaches of Sumner and Scarborough. Hirschhorn's remarkable sculpture existed for just 24 hours.
The sculpture referenced the global enthusiasm for car customisation evident in the louder, brighter and bolder DIY modifications seen parading city streets. Hirschhorn is interested in the universal act of customising: he comments that 'personalising one's own ordinary car in order to give it a unique individual touch is the revolutionary gesture of everybody, without exclusion… it becomes a resistance and a kind of contemporary-everyday-poetry.
Resources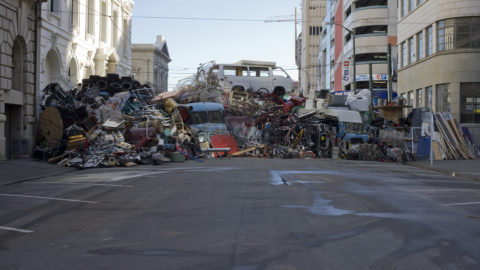 In ONE DAY SCULPTURE, prominent critics, curators and scholars explore…
View